AUDIO
Bazooka - Dubstep PromoMix - "FukKen'ArtKore" (April 2011) 'Another FREE Piece of WickednezZ'
Yeah it's been a while since Bazooka uploaded a Mix to the Aural-Carnage Recordings Website.
This time it's a Dubstep Mix, but nevertheless it's 'Real Hardcore' Dubstep which Bazooka prefers to play and listen too.
It's named 'FukKen'ArtKore' and in fact it is "fucking hardcore". The Tunes as well as the Mix itself. Proper !!!!.
Tunes from the forthcoming Album 'AntiHero' by Bazooka are also included! Check it out and download it for free NOW!
Click HERE to download "Bazooka - FukKen'ArtKore" Dubstep PromoMix" - (mp3 file)
The Tracklist can be downloaded HERE (.txt File)


Bazooka's RMX of Sage Francis's - Hoofprints (2007 - unreleased) 'FREE '15 Years Baz' BONUS DOWNLOAD'
A well done but unreleased Remix. DNB Style. Original Vox by Sage Francis. This was Bazooka's attempt of doing a REMIX for a well know Lyricist who is quite a while active in the HipHop scene. However, guess he JUST WANTED HIP-HOP REMIXES and not fresh stuff like Bazooka brought it over here. Well never mind. Bazooka comes from Hip Hop and DNB is HipHop for him. Seems not everbody shares the same ideas. Because it was'nt released by Mr. Francis anyway, its now given away by Bazooka - for you - Click HERE - FOR FREE DL! (mp3 file / zipped)


Bazooka Re-RMX of Hate Breed & Devil Inside Vs Volkan.T - Closer To Hell (2010 - unreleased) 'FREE '15 Years' BONUS DL'
HipHop Metal DNB. Like Bazooka likes it. Volkan T & Toby Dope did a Remix of this track. Bazooka heard it in their Studio and did a DNB Re-Remix. Vocals from Hate Breed, Devil Inside and Volkan T. are used and transformed into a DNB Tune.
Download it Now ! - HERE! (mp3 file / zipped)

Bazooka's Remix of Linkin Park's Tune - The Catalyst - (2010 - unreleased) 'FREE '15 Years Baz' BONUS DOWNLOAD'
Dubstep flavoured Remix by Bazooka. This Tune contains Original Material "Stems" but it was transformed into a hard stepping Dubstep Track. Since it was'nt released by Linkin's Label it's now here for free DL because Bazooka wont make money out of it and so its a nice BONUS for you - FOR FREE like you Kids like it.. (mp3 file / zipped)



ACAR-07 - Bazooka - 'AntiHero' CD Album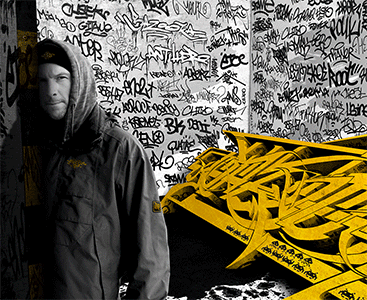 01: Piss in the Mainstream
02: Ancients
03: Humanoid Kill
04: Gojira
05: Bass Invaders
06: Ganja Remix
07: Different Tings
08: Dynasty V.I.P. Mix
09: Murderah V.I.P. Mix
10: Push It Up
11: War Remix
12: Good Day To Die
13: Hammer Smashed Bass
14: S-Killah (V.I.P. Mix)
15: Commando 64


Side A.: "Vile" by "Replicator Vs Pure Disorder"
The Sicko Romanian/Hungarian Guys did their best to release a great Tune on Aural-Carnage and they succeeded.
Awesome Drums/Snares banging your guts away while acid basslines drill themselves forward, into your brain.


ACAR-0666 B: "Sheep Killer"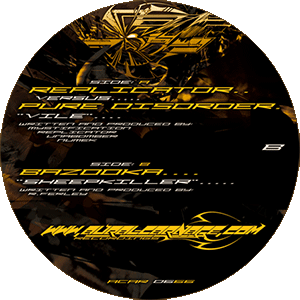 Side B: "Sheep Killer" by "Bazooka"
Bazooka kicked sum Guitars into this D&B mosher and merged them with Hardcore Distorted
Bassdrums and crazy Stabs like you like it. Aural Carnage Style. Complexitiy in perfection.
Like Chilled music ?? This IS NOTHING for you !!!
ACAR-05 A: "Shadow"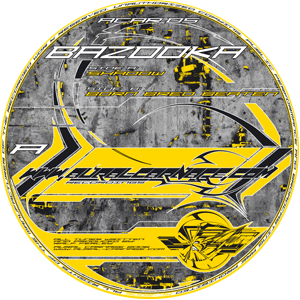 SIDE A: "Shadow" starts with a great Orchestral loaded Intro which reminds you of some awesome Movie Soundtrack.
(You just dont remember which one ;) ) Then the Bassline drops in and the NoiseZ do their Job to interact with your Neocortex. Expect the crowd GO MAD if you play this tune on a big System .


ACAR-05 B: "Born Bred Beaten"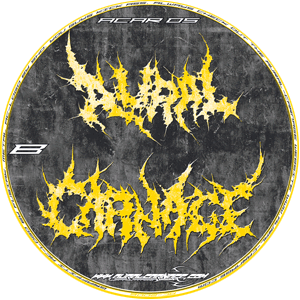 SIDE B: "Born Bred Beaten" OWNS !! Sick Metal Vocals & Guitars do what you expect them to do.
Tear the Soundsystem apart !! With some help of awesome programmed Beats and wicked Snares. It rolls, bad bwoy !!
ACAR-04 A: "The Darkside Of The Moon - REMIX"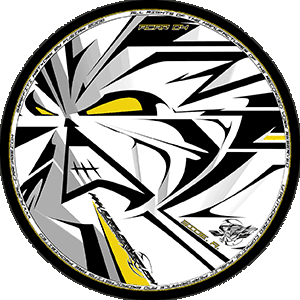 SIDE A: Very strong Remix by the nice dutch guys - Eye-D & DJ Hidden. We're glad to get those Maniacs of Noize for AC.
A Dark Orchestral, Classical & Metal influenced Tune. This is a Real Nightmare, even for those Hardcore HeadZ


ACAR-04 B: "You Are NOT Ready - REMIX"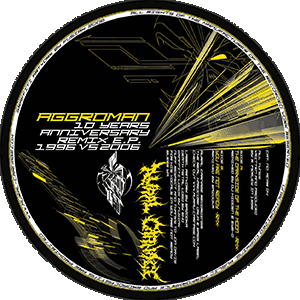 SIDE B: Breaking the Laws of D&B thats the Goal of Aural-Carnage Recordings and we did it with this MF!!!
Ever been scared by a D&B Tune ?? No ? Watch out for Bazooka's Remix, scream and watch your Eardrums bleed..
Metal Guitars & Sick Vocals, Distorted Hardcore Beatz, Complex Arrangements and dope breaks. AC brings it on ! WORD.


ACAR-03 A: "Bassdrum Korrekt ?"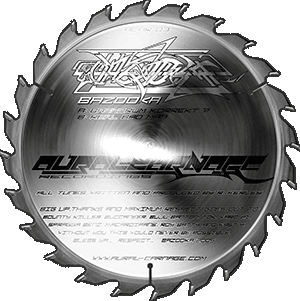 SIDE A: Bazooka, once again. A FukkiN' Wicked Drum & Bass Tune. Ask yourself if this Bassdrum is korrekt !!!
Maybe the great Arrangements and selection of different Subs/Bass, Classical Fast-H Vocals and Distorted Samples
are korrekt as well ?? WE THINK SO !! :)


ACAR-03 B: "Real Bad Man"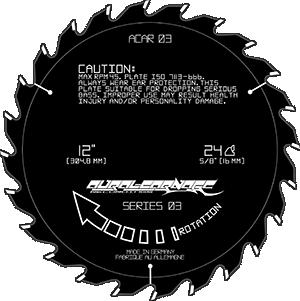 SIDE B = Faster Side. Like always on Aural Carnage. Harder ?? For sure no Softcore tune :) !!
Ragga Heros like Bounty Killer and Ward 21 (just to name a few) lending bazooka their awesome
voices which get merged together with the alltime favorite StarWars Imperial March Tune.
Ragga Jungle Massive. This is for YOU and it's JUST MASSIVE !!! Check it out.




ACAR-02 A: "Knowledge & Wisdom"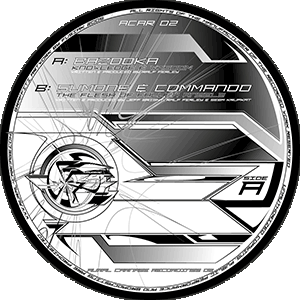 SIDE A: Bazooka`s "Knowledge & Wisdom" mystical female vox combined with DeeeP basSeS, un believable INTENSE !!
!! ACAR-02 SOLD OUT !!


ACAR-02 B: "The Flesh of fallen Angels"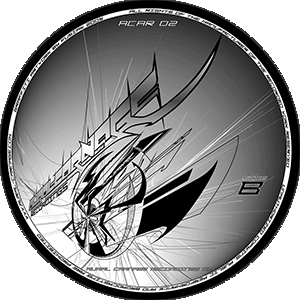 SIDE B: SuMoNe & Commando. A beautiful collaboration between an great american Artist calles SuMoNe and
the German/Berlin based DJ-Team Commando, which is Bazooka & Sahood. Check This Killa TraCK!!!


ACAR-01 A: "RuffnezZ"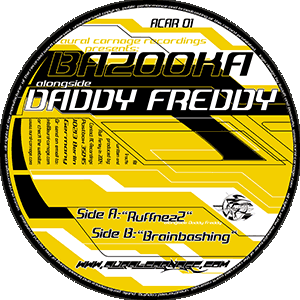 SIDE A is featuring DADDY FREDDY - the Ragga Hardcore Vocalist from the U.K./Jamaica.
This Tune is called "RuffnezZ" which is a fast AMEN like Jungle 8-Bit-Bass Blastah.
!! ACAR-01 SOLD OUT !!


ACAR-01 B: "Brainbashing"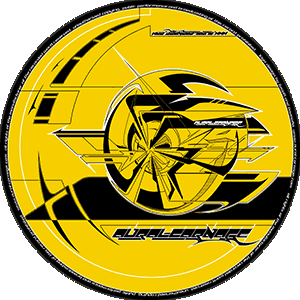 SIDE B: Brainbashing - A more Darker but still lots of AMEN chopped Tune. The AC Illness starts with this one!!



July 06 D&B PromoMix by Bazooka, called "Fuckin' Hot Summa Carnage" - Click on the Banner below for DL.

Click here for the FukHotSumMix Playlist, or Right Mousebutton to Save